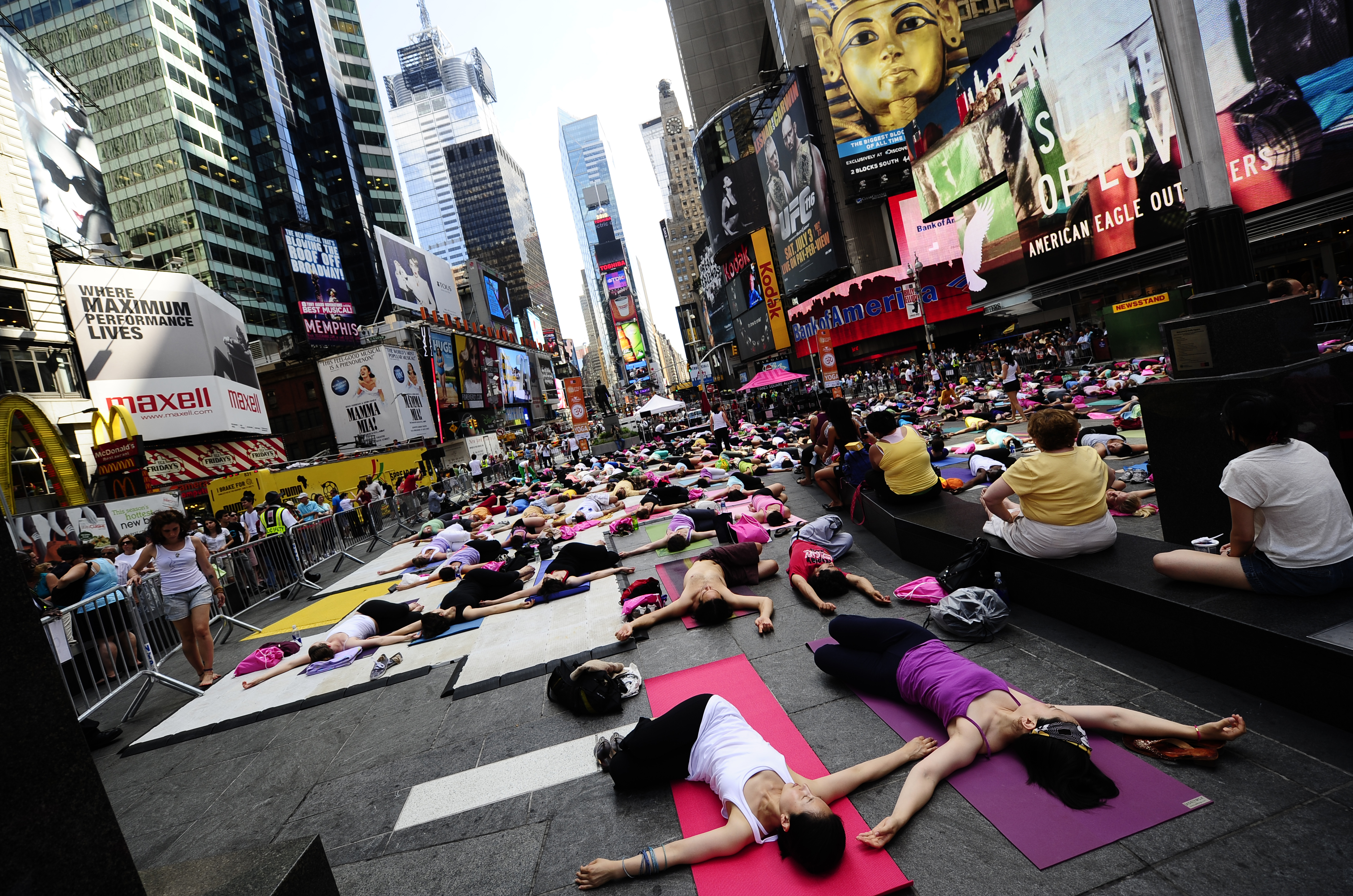 Photo from http://cbsnewyork.files.wordpress.com/2010/11/yoga.jpg
By Natasha S. Raheja
"You are a partner in the journey to discovery. You are place of solidarity. You are a reliable, familiar  foundation to return to again, again, and again."
–Ode to the Black Mat, Manduka Yoga Accessories Company
Given the yoga mat's casual insertion into our popular lexicon and sightscape (mostly in its mobile cylindrical form), it's hard to imagine a time when a query for "yoga mats" on Amazon.com did not yield over 7,000 results.  Practicing yoga at home or in a studio without a mat now seems odd, implausible even. Bare floors partitioned into insular rectangles are iconic of the interiors of yoga studios. The act of unrolling a yoga mat has become an integral ritual that demarcates a time and place dedicated to yogic practice. Rolled yoga mats peeking out of handbags or slung across backs on the city subway and sidewalks point out who can take the time to exhale. In what follows, I hope to share revelatory traces of the yoga mat's genesis and its subsequent massively productive foray into New York City ubiquity.
Current beginner and how-to yoga guides list mats at the top of their must-have supply lists. After all, as manufacturers advertise, the yoga mat enhances performance and ensures safety.   For some, mat ownership is a serious endeavor. Charts and discussion forums that meticulously compare the myriad mats for sale abound. With prices ranging from $10 to $100, variations in thickness, material, biodegradability, odor, weight, length, and brand make all the difference—we're told.  There are at least sixteen prominent companies making yoga mats, around seven of which are top contenders. These few brands, including Hugger Mugger, Lululemon, Gaiam, Barefoot, Manduka, Jade, and Aurorae, are all headquartered in the western hemisphere and collectively emerged about 15 to 20 years ago. From where could a yoga mat be had before then?
A Youtube search for video of the renowned yoga guru B.K.S. Iyengar yields footage spanning a 75-year timeframe.  In 1938, we see Iyengar doing yoga poses on an oriental rug. In two recordings from 1977, we see him practicing on bare stage flooring. In 1991, there appears to be what we would now call a yoga mat under the legendary yogi's feet. Videos of respective yoga segments hosted by Lilias M. Folan and Priscilla Patrick,that aired on PBS from the 1970s to the 1990s, offer similar absences.  It's bare floor for Priscilla on PBS, and as a guest of Richard Simmons in 1981, Lilias also teaches without an underlay, but in excerpts from her own show, we see her make some use of a thick blue gym mat which she refers to as part of her "yoga gear".   Video of Baba Ramdev, a contemporary yoga icon in India, with his own highly viewed TV show, discloses his preference to practice on bare flooring—sometimes we see his students demonstrating poses on a thin sheet or towel. We can conclude that the yoga mat is a new thing, and that it is a new western thing–a product of market innovation! Not that people practicing yoga in India do not avail of any accessory equipment. Many do, indeed. But there, they mostly just use what's generically called a mat or a sheet (though on a recent visit to the yoga homeland, I did notice a growing stock of yoga mats, mostly in upper middle-class wellness and lifestyle stores).  So how did the yoga mat as we know it today come to be?
The yoga mat is a descendant of its precursor, the no-slip rug pad. American yogis, struggling with slipping during asana practice, sought a material to ground themselves. Birth stories of the mat cite sweat as the chief obstacle in staying grounded on regular old rugs or floors. Innovative yogis cut down rug pads, which otherwise are used to keep area rugs from sliding around the floor, to help them achieve a better grip during asana practice. In fact, the popular JadeYoga yoga mat company was born out of Jade Industries Inc., an American company that sold no-slip rug pads for their intended purpose. In an interview with Yoga Journal, famed yogini Angela Farmer recounts a similar trajectory that took off with a carpet pad manufacturer in Greece and resulted in the first sticky mat made just for yoga use. Sara Chambers, proprietor of the US based Hugger Mugger, in response to the quick deterioration and high costs of sticky mats imported from Europe, conceived of and began producing the Tapas® Mat in the 1990.  These early innovators paved the way for a lucrative yoga mat maker scene, which now boasts dozens of competing brands.
Naturalized as an integral part of practice, the mass produced yoga mat is an illustrative example of niche commoditization and the way entrepreneurs savvily build microeconomies around emergent lifestyle trends. The results of Yoga Journal's 2008 "Yoga in America" Market Study underscores the scale of this specialized economy, where the approximately 16 million yoga practitioners in the United States spend close to six billion dollars in yoga related purchases per year. Significant rises in these gross numbers are anticipated in the Yoga Journal's soon to be released 2012 study results.
The sportswear corporation Nike clearly does not want to be left behind.  They've found a way to creatively enter the yoga market… yoga shoes. Hitting stores in 2013, The Nike Studio Wrap is a $100 cross between a sock and shoe.  Victoria's Secret, Under Armour, and North Face, among other top brands have also been developing yoga product lines.
Such new avenues of consumerism are an integral feature of advanced capitalism– made possible through a proliferation of brands and the cultivation of needs through the making and marketing of new products for must-have purchase. Today, the introduction of yoga shoes might seem nonsensical or over the top, but the introduction of a new good on the market is potentially powerful in that it can redefine a practice or activity to a point where, in the case of the ostensible interdependence between yoga practice and the yoga mat in New York City, a material good and the related activity or an activity and its related material good, become practically coterminous.  How do we mark ourselves, and the things we do, through the things we buy? Is consumption the primary mode by which yoga spaces in New York City are made accessible and recognizable to us? How are purchase and participation linked?
Just like the creative repurposing of the carpet pad, the yoga mat's intended use is similarly thwarted and its premise, critically challenged. Some avid practitioners bemoan the waste and deleterious environmental effects of the synthetic plastics in most lower-end yoga mats. While others, citing the negativity of materialism in contrast to the simple authenticity of ancient yogic traditions, which apparently do not require a mat, question our contemporary adherence and dependence on the yoga mat for our practice (Indeed, my interrogation of the yoga mat is provoked by my own allure for it. Soon after moving to New York City and eager to begin the meaningful morning routine I had always aspired to, a yoga mat was at the top of my to do-to buy list. I felt my ability to initiate a practice was in some way inhibited without the requisite equipment beneath me). While still others, feeling limited by the bulkiness of the mat, have devised more minimalistic alternatives.  And of course there is the notable contingent of uses of yoga mats for practices outside of the immediate realm of yoga, evinced by their presence in pilates classes and weight rooms. Not to mention, the afterlives of yoga mats are myriad. In response to a recent status update, some Facebook friends told me that worn out yoga mats make for good can openers, window insulators, and sleeping pads for camping. Several websites enumerate ways for people to repurpose or "upcycle" old yoga mats. Notably, suggestion #12 on one of these lists comes from a contributor in Brooklyn who suggests that a yoga mat can also be used as "mat gripper,"  "to be place[d] under an area rug for no-slip gripping. When you're ready to work out, just roll back your rug and presto — yoga in an instant". I guess we all go back to where we came from.
Natasha Raheja is a 2nd year PhD student of Anthropology at New York University. Her research interests are in the areas of state regulation, mobility, and spectacle in India. She also co-directs the Sindhi Voices Project. Her favorite yoga pose is vrkshasana.