Kathryn Montalbano: After the debate following last year's decision by the International Federation of Association Football (FIFA) to host the 2022 World Cup in Qatar, soccer continues its role in global religio-political contention. Warned in April 2010 that the football "monarchy" would prohibit any religious garb incorporated into athletes' uniforms, the Iranian team designed tightly-fitting, functional headscarves for the 2012 Olympics.  In a heartbreaking decision for the qualified Iranian team, FIFA said not good enough.  Now the team will not participate.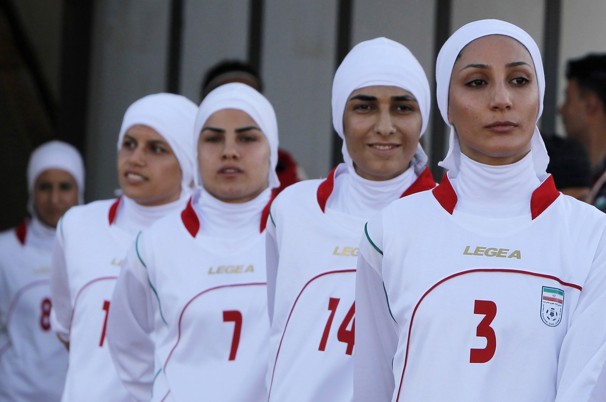 The modified headscarves were rejected by FIFA for being safety hazards, preventing the women from pursuing their athletic careers on the global stage.  As asserted by former Iranian head coach Shahrzad Mozafar in the Wash
ington Post
article above, "This ruling means that women's soccer in Iran is over."  The ban, in short, brings an entire new meaning to Franklin Foer's infamous theory of
how soccer explains the world.
The women have the full support of Iranian president, Mahmoud Ahmadinejad, whose piercing
lambast
of FIFA included characterizing the organization as "dictators and colonialists."  Whether Iran's protest will garner enough leverage to effectively reverse FIFA's decision is uncertain.  What's more likely is the debilitating blow this ban has delivered to the developing, global recognition of women's soccer as a sport worthy of respect equal to its male counterpart–as well as to the ability for female athletes in traditionally patriarchal societies to assert their own autonomies regardless of their religion, gender or dress.