by Becky Garrison
Rob Bell, a bestselling Christian author and founder of Mars Hill Church in Grand Rapids became a top trend on Twitter last week after Justin Taylor posted a blog article titled "Rob Bell: Universalist?"  Taylor, vice president at Crossways International, a Christian educational non-profit, based his commentary on select chapters of Bell's forthcoming book Love Wins: A Book About Heaven, Hell, and the Fate of Every Person Who Ever Lived that were sent to him and on a promotional video produced to accompany this book's release on March 29th. Those who picked up on Taylors' post included bestselling author and Reformed pastor John Piper, who tweeted a succinct "Farewell, Rob Bell."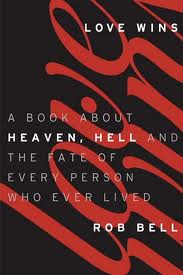 The bulk of those generating the ensuing online buzz appear to have reached their conclusions regarding Bell's book not based on the book itself, which few have actually had the chance to read, but on a position they've already taken in the ongoing battles between reformed and progressive (aka emergent) evangelicals. Bell's detractors claim that he's abandoned "biblical Christianity" and the belief that only Christians can enter heaven. Instead, he's charged with adopting universalism, a concept which states that everyone will eventually be saved.  In other words, critics claim, what's at stake is nothing short of Bell's soul and those of his followers and readers.
It's an argument — who gets into heaven? — that's perennially transpired in the church since the time of the Christian theologian Origen (185–254 CE). (Don't miss David Hayward's cartoon at Naked Pastor!) That commenting evangelicals have embraced this fight as distinctly their own exposes this "controversy" as one contrived from an ahistorical understanding of Christianity.
Christianity Today summarizes the commentary and offers a critique from North Park University professor Scott McKnight regarding the timing of this particular battle:
I've not seen anything like it. And, yes, the quickness of social media have made this such a big issue … today … and in a week it will all be gone. Justin Taylor once generated almost 100 comments by quoting a blurb of mine that was on the back of IVP's book by Tom Wright on Justification.

Justin may be right about what Rob believes, but if he is wrong then he owes Rob Bell a huge apology. I want to wait to see what Rob Bell says, read it for myself, and see what I think of it. Rob is tapping into what I think is the biggest issue facing evangelicalism today, and this fury shows that it just might be that big of an issue.

The publicity approach of HarperOne worked perfectly. They got huge publicity for a book. They intended to provoke — and they did it well. I think it is wiser to wait to see the real thing than to rely on publicity's provocations. Justin bit, and so did many of his readers.
Such oppositional marketing strategies can be found in other recent "liberal v. conservative" scenarios.  Take for instance Mark Driscoll v. US Emergents, Bill O'Reilly v. Keith Olbermann, or Glenn Beck v. Jim Wallis. Both parties need each other in order to bolster the claims that they are being "persecuted" for their beliefs; both benefit from heightened media profiles and respective book sales.
What's a soul when compared to a book advance?
For more on Rob Bell's book and the controversy surrounding it, read Erik Eckholm at The New York Times, Eric Reitan at Religion Dispatches, and Chris Armstrong at Grateful to the Dead.
Becky Garrison's books include Jesus Died for This? A Satirist's Search for the Risen Christ (Zondervan, August 2010) and Starting from Zero with $0: Building Mission-Shaped Ministries on a Shoestring
(Seabury Books, September 2010).