by Jo Piazza
Pundits, politicians and yes, party animals have all weighed in on the Bristol Palin meets Mike "The Situation" Sorrentino ad promoting abstinence and condom use. But apparently no one is laughing harder than Palin, Sorrentino and the Candie's Foundation which commissioned the viral video.
The marketing team at the foundation, the charitable arm of the teen fashion company best known for its bubblegum pink ads with Britney Spears, brought Bristol Palin on board as an ambassador to speak out on the topic of teen pregnancy following the birth of her first child last year.
Palin has since said that she plans to practice abstinence until she is married.
The foundation's marketers have been keeping a close eye on Palin's run on the reality dancing competition Dancing with the Stars. In a recent brainstorm session they came up with the idea to bring together the fan base of Bristol (Conservative teens) with the fan base of the MTV show the Jersey Shore (15-35 year-olds with a Peter Pan complex) since Shore castmember Mike Sorrentino was also competing on the dance show. Dari Marder, Chief Marketing Officer for Iconix, Candies' parent company, asked Bristol to talk to Mike about doing a spot for them.
"He loved the idea. And both of them got the joke. That's the thing people are missing here. Mike is in on the joke. We had a script written and he really played up and ad libbed the character because it was supposed to be a humorous spot," Marder said.
Abstinence educators certainly didn't get the joke. "The commercial was unprofessional and lacked clarity of message. It failed to deliver any lasting or meaningful value in addressing the problem of teen sex," Valerie Huber of the National Abstinence Education Association told The Revealer in an email.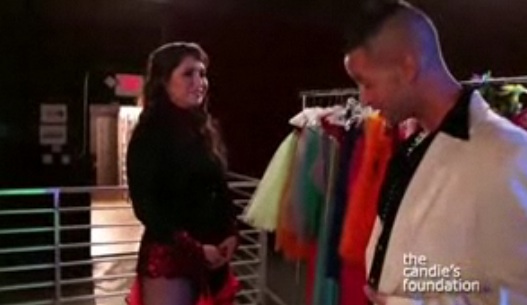 And the blogosphere has been filled with attacks. Among them that Bristol has hijacked her mother's celebrity to pander to the Republican base. Bill Barol from Forbes said he couldn't even get through the entire ad, mainly because the word situation was used in excess.
The ad was made to be bad. It was never supposed to look polished or well-done. The public service announcement's patent ridiculousness, including a line in which Sorrentino waxes poetic on his appreciation for abstinence because it has the word "abs" in it, is supposed to be part of it's appeal and it is most definitely the reason the video has been viewed more than half a million times on YouTube since it was posted on November 16.
"We are talking to teens, not pundits here. Here is a guy from the Jersey Shore and he says he is going to use condoms. Here is Bristol asking you to consider abstinence. We're just trying to educate teens using two icons of the moment during this crazy moment in time when they worked together," Marder said.
Through her mother's inadvertent political celebrity on the national stage as a vice-presidential candidate through her rebirth as a Tea Party icon and reality television star, Bristol Palin has become a minor celebrity in her own right. And judging from her success on Dancing with the Stars, where American votes on the winner, she has quite the dedicated fan base.
Sorrentino has risen to fame as the loud-mouth, women-ogling, hard-partying, serious-tanning gym rat on the hugely popular Jersey Shore. He is reportedly on track to earn $5 million in 2010 through television contracts, endorsements and appearance fees.
The unlikely pairing of The Situation and B. Palin could be what teens need to start a conversation about abstinence, long a subject branded as religious and/or political that is finding a place in the realm of pop culture.
"Bristol is using her new-found fame to educate teenagers about the do's and don'ts of having sex," Says Hollywood media consultant Michael Sands. "I believe, teens will listen to Bristol because she is in their peer group. Celebrities are able to convey a message better than parents and educators."
That's what Candies is banking on.
"This is a good conversation we are having," Marder said. "We laugh when we say Mike has used his powers for good but it is true. We have gotten hundred of millions of impressions already from this ad. You know you're getting some message across when the Jon Stewarts and Bill O'Reillys of the world are talking about you."
Jo Piazza is a Masters candidate in Religious Studies at NYU. Her work has appeared in the Wall Street Journal, The New York Times, Daily Beast and CNN. Her first book, Celebrity Inc.: Inside the Business of Being Famous is out in May.