Come celebrate the launch of Jeff Sharlet's latest book!  C Street: The Fundamentalist Threat to American Democracy is a sequel to last year's New York Times bestseller, The Family.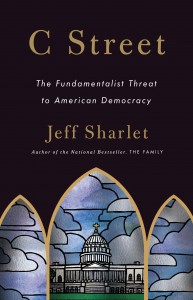 Sharlet, contributing editor for Harper's and Rolling Stone, assistant professor at Dartmouth, and founder of The Revealer, will be reading and talking about his latest book.
Monday, November 1
5 pm
New York University Bookstore, 726 Broadway, NYC, 10003
Sharlet will be signing books, for sale at the NYU Bookstore.
Sponsored by The Revealer, a publication of NYU's The Center for Religion and Media; Co-sponsored by the NYU Bookstores and Killing the Buddha, a religion magazine for people made anxious by churches. This is the inaugural event of The Revealer Reading Series.
"Few writers can pull off investigative journalism, historical research, and elegant storytelling. Sharlet does all this with a story that a lot of people don't want to hear and others won't believe." (Diane Winston, author of Red-Hot and Righteous: The Urban Religion of The Salvation Army )
"[Sharlet] writes with insight, verve, and, thankfully, none of the bogus punditry and bad sociology that often passes for informed discourse about the contemporary role of religion in public life. His refreshing narrative style is as engaging as his groundbreaking information." (Frederick Clarkson, The Public Eye )
"Un-American theocrats can only fool patriotic American democrats when there aren't critics like Jeff Sharlet around-careful scholars and soulful writers who understand both the majesty of faith and the evil of its abuses." (Rick Perlstein, author of Nixonland: The Rise of a President and the Fracturing of America )
This event is free and open to the public, first come, first seated.  Wheelchair accessible.  For more information, click here, call 212.998.7608 or email editor@therevealer.org.
New York University