January 27 New World Orders: Coloniality, Racial Intimacies, and Disability
Co-sponsored by the NYU Disability Council
The Department of Art & Public Policy at NYU presents
Artists Candice Lin and Xandra Ibarra
Mel Chen (UC Berkeley) C. Riley Snorton (Cornell)
Aimee Bahng (Dartmouth) Jasbir Puar (Rutgers)
Mark Rifkin (UNC) Ivan Ramos (UC Riverside)
This symposium pairs recent work in critical indigenous and race studies with disability and queer theories. We will work through important provocations by recent humanists and artists who have turned to the formation of the New World in order to better understand our contemporary moment. These turns force us to account for a deeper sense of history, along with the aftermath of racial logics, colonization, enslavement, resource extraction, the policing of intimacy, and the disablement of bodies/communities. We will explore how to imagine new world orders and futures. What is the responsibility of the humanities and the arts to move forward with the reverberations of the New World? What new world orders can emerge by contending with the "old" New World?

Sponsors include NYU's Art & Public Policy; Asian/Pacific/American Institute; Council for the Study of Disability; Center for the Humanities; Vice Provost's Office for Faculty, Arts, Humanities, and Diversity; and the Dean's Office at Tisch.

Co-sponsors include Center for the Study of Gender and Sexuality; Center for Media, Culture and History; Social and Cultural Analysis; Performance Studies; Spanish and Portuguese; Center for Multicultural Education and Programs; Media, Culture, and Communication; and the Hemispheric Institute.
For more information and to reserve limited seating, please visit and RSVP:
---
Disability/Arts/NYC: A Convening Saturday, January 28, 2017
Co-sponsored by the NYU Disability Council
The New School
Starr Foundation Hall, U L102
In the last few months, a group of NYC-based artists, activists, and academics have formed the Disability/Arts/NYC Task Force. DANT is forming around a unique moment for disability arts and artistry. We are witnessing bold and brilliant artwork across genres and disciplines that take up disability as a profound aesthetic and analytic value. And yet, there are persistent obstacles that limit the possibilities for disabled artists and artistry. DANT is in the process of naming this unique moment and developing a movement for disability arts to thrive in New York City.
As part of this ongoing work, we are hosting a groundbreaking convening that will bring together disabled artists, members of the broader arts community, and representatives from some of NYC's city agencies. We will use the convening to strengthen the coalition of disabled artists and allies while also beginning to craft a disability/arts platform for future policies and practices in NYC.
DANT is deeply grateful to our sponsors, which currently include: Dance/NYC, the Council for the Study of Disability at New York University, the Mayor's Office for People with Disabilities, The Eugene Lang College Arts Program at The New School, Inclusive Fashion & Design Collective, with other sponsors pending.
---
January 30, Screening Disabilities (Steinhardt FACES Series)
Co-sponsored by the NYU Disability Council
---
Co-sponsored by the NYU Disability Council
Ecologies of the Future Present: SCA Annual Spring Conference
Saturday, April 8 at 10:30 AM – 6 PM
NYU Department of Social & Cultural Analysis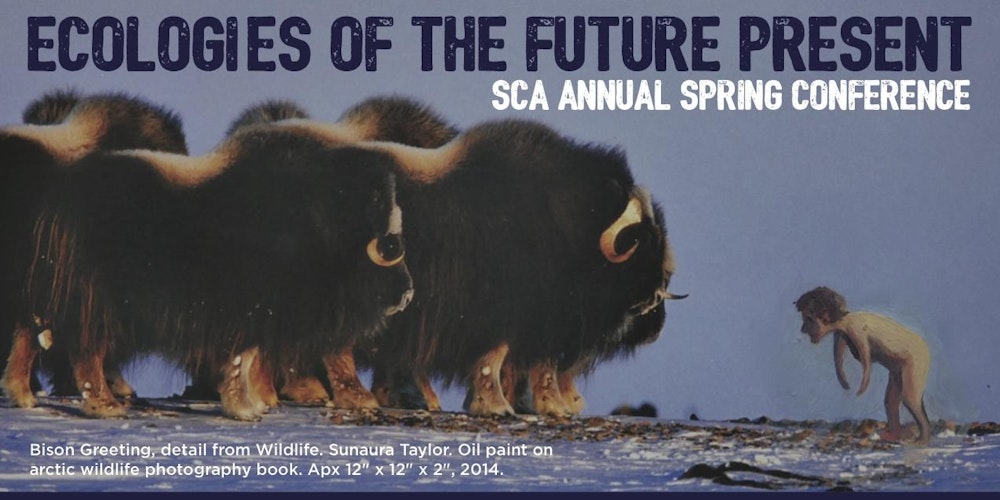 Future projections of life on earth present us with an assemblage of various social and biophysical challenges: rising tides, resource wars, mass extinction, climate refugees, and financial precarity. Often these challenges are conceptualized as various "crises," contained via some as-yet unrealized future event – but what if we rather understood them as the already present structures that we live with and within, taking a lens to the actors and processes enabling what Rob Nixon has helpfully termed "slow violence?" How does this epistemological shift allow us to engage futurity in our present? Ecologies of the Future Present will explore the ways in which ecologies, species, bodies, and organisms are governed by an orientation toward the future, raising questions of accountability, vulnerability, risk, and crisis under capitalism and coloniality. Join us as we explore what it means to live with, plan for and resist within ecologies of the future present.
This event is free and open to the public, but please RVSP at:
https://www.eventbrite.com/e/ecologies-of-the-future-present-sca-annual-spring-conference-tickets-32584447961
This event is hosted by the Department for Social & Cultural Analysis' Graduate Student Conference Committee, with support from the
Animal Studies Initiative and the NYU Disability Council
POSTER IMAGE DESCRIPTION:
The top half of the poster shows a photograph of numerous arctic bison standing in profile facing right, in a snowy landscape with a blue sky behind them. In front of the bison a small naked human figure is painted onto the image. Also in profile, the painted figure is a white woman with apparent disabilities, who stands in a bow as if greeting the animals. The image is titled Bison Greeting, a detail from Wildlife. Sunaura Taylor. Oil paint on arctic wildlife photography book. Apx 12″ x 12″ x 2″, 2014.
---
Disability, Animal Liberation, & Environmental Justice: A Reading and Dialogue with Sunaura Taylor & Eli Clare
Co-hosted by the NYU Disability Council and the Department for Social and Cultural Analysis
Friday, April 21, 5 – 7pm
New York University Department of Social & Cultural Analysis
20 Cooper Square, 4th Floor
NY, NY 10003
Long-time comrades in disability community, both Sunaura Taylor and Eli Clare have just released new books. Sunaura's Beasts of Burden is about disability and animal liberation; Eli's Brilliant Imperfection is about disability, cure, and environmental justice. These two books and their authors speak to each other in deep ways. Come be part of the conversation as Sunaura and Eli read from and talk about their new work. Reception and book-signing afterwards.
https://www.facebook.com/events/707647342740641/